CBD, also known as Cannabidiol, is one of the 400 complex compounds found in the cannabis plant. Unlike THC, which is the psychoactive component of the plant, CBD is non-psychoactive and is currently being studied and utilized for possible therapeutic effects in the body. Evidence suggests that CBD may be therapeutic for a number of conditions, such as:
Pain relief

Anxiety relief

Anti-proliferation (anti-cancer)

Neurological disorder relief (such as Parkinson's or Epilepsy)

Various other conditions
Yes! CBD is legal at the federal level, and is completely legal in Georgia. You do not need a prescription. Legality varies from state-to-state. Check out this article to find out more details!
What is a Full-Spectrum CBD Oil?
When discussing cannabis, most people just think of THC and CBD. According to TerraGold Plus' blog, there are over 60 different types of cannabinoids in the cannabis plant. Their blog states, "CBD is most effective when it's used in conjunction with the other beneficial compounds that are found in the hemp plant. These compounds include terpenes, flavonoids and other cannabinoids." A full-spectrum CBD oil not only contains pure CBD, it also contains these other compounds! Why is this important? Terragold's blog mentions something called the "Entourage Effect". This term was coined by an Israeli researcher named Raphael Mechoulam in 1960; he discovered that cannabinoids isolated on their own tended to be less effective than if paired with other cannabinoids. However, this doesn't mean that isolates are completely inneffective. There is evidence that suggests CBD isolate may still be very beneficial for various conditions. For more info on what exactly a full-spectrum oil is, check out TerraGold Plus' blog post on full-spectrum CBD oil here!
Do Full-Spectrum Oils Contain THC?
While CBD oil is non-psychoactive, Full-Spectrum oils may contain trace amounts of THC (up to 0.03%). The brands of CBD we carry here at Herbal Intentions grow their hemp to have high CBD and low THC content, to ensure that you are getting a pure product that is not mind-altering! This being said, if you are at all concerned with the THC content in full-spectrum oils, have no fear! We have multiple options for CBD isolates (THC free)! Stop by the shop to find out which product is right for you!
What Forms of CBD does Herbal Intentions Offer?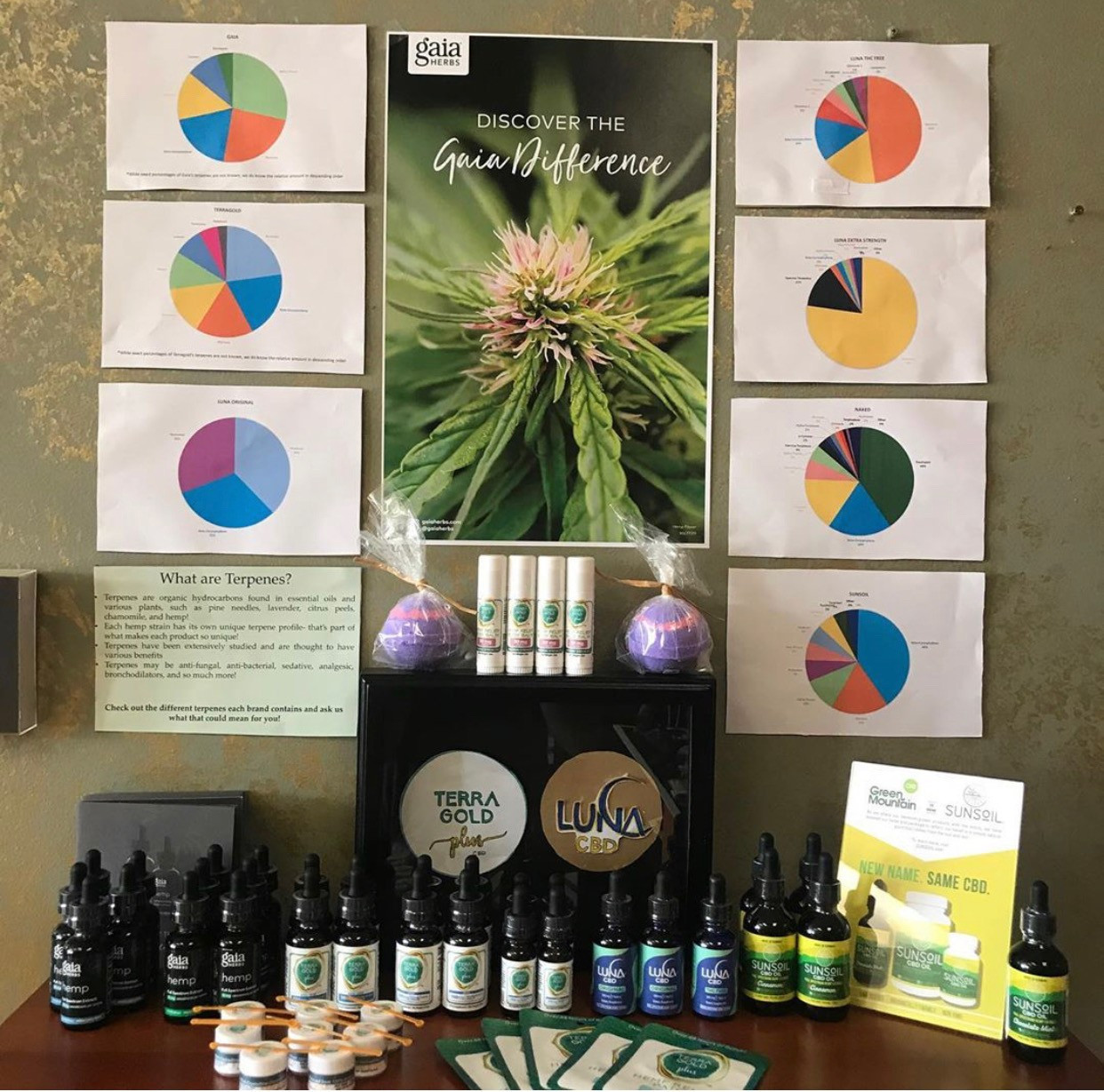 At Herbal Intentions, we offer several top quality brands of CBD in multiple forms to guarantee that you're making the best decision for your body and well-being. We want you to be confident in your CBD purchase, so we choose to carry brands that we're confident you'll love! We currently carry Hill City Hemp, TerraGold Plus, Luna CBD, Sunsoil (formerly Green Mountain CBD), Sacred Smoke Herbals Hemp Flower, Gaia Herbs CBD, Kat's Naturals, CBD Luxe Disposable CBD Pens, Halcyon Essentials, and VELO CBD Bars. Our variety of brands allows us to offer CBD to our customers in whichever form they choose, with robust terpene profiles! Each strain of hemp is unique, so each brand of CBD comes with it's very own terpene profile, so you can figure out which works best for you! Some of the options we have for CBD use are liquid tinctures, capsules, topical balms, patches, pure crystalline CBD, bath bombs and E-Pens. To figure out which CBD is right for you, come by Herbal Intentions to learn more, and follow us on social media to keep up with product updates!